Click on the image to see full size
Use mouse wheel or two fingers to zoom in

Live auction
Lot closed
Lot location
Ludlow, Shropshire
Large Salter Spring Balanced Scales: Heavy brass warranted scale having fixing hook to top and weight hook to bottom. Length 44cm. 25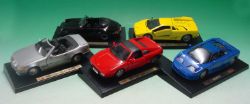 Venue address
The Clive Pavilion, Ludlow Racecourse
Bromfield
Ludlow, Shropshire
SY8 2BT
United Kingdom
Toys, Military and Collectables
Auction dates
Jun 04, 2013 11:00 AM BST
Viewing dates
Jun 04, 2013 08:30 AM - 02:00 PM BST
| | |
| --- | --- |
| Auction currency | GBP |
| Accepted cards | |
With the ever increasing volume of items now purchased online, postage of items purchased will now be carried out by our appointed independent shipping agent TWC Ltd based in Shrewsbury, they will contact you direct to arrange and pay for shipping. Alternatively you can arrange for your own courier (packing charges will apply) to collect your item within 10 working days following the date of the auction.
The buyer may collect lots from the premises of Mullocks Auctions up to 10 working days after the sale date, however following that, purchasers lots will be transferred to our appointed shipping agent who will contact you direct. The payment for this should be made direct to the shipping agent.
Purchased lots in the possession of the appointed company will be subject to their own conditions of business and insurance arrangements and all packing and handling of lots is at the buyer's risk. Mullock's will not be liable for any acts or omissions of third-party shippers, storers or packers.
Please contact Mullock's for full details.
CONDITIONS OF SALE

The highest bidder shall be The Purchaser, subject to the right of the Vendor to bid and the right of the Auctioneers to reject any bidding. If any dispute arises between two or more bidders, such dispute shall be finally settled by the Auctioneers, or at their discretion the Lot may be resold.

The Auctioneers have the full power to withdraw or alter any lot or lots he may think proper. The bidding will be regulated by the Auctioneers. No bidding shall be retracted.

The Auctioneers act as agents only. Each lot, as set out in the Catalogue or as divided or joined with any Lot or Lots at the Sale at the sole discretion of the Auctioneers, is sold with all faults, imperfections and errors of descriptions, and neither the Vendors nor the Auctioneers are responsible for the authenticity, attribution, genuiness, origin, authorship, date, age, period, condition of quality of any lot. All statements whether made orally or contained in any catalogue, advertising matter, or made in any manner as to any such matters, are statements of opinion and are not to be taken as or implying, statements or representation of fact. Purchasers are deemed to have satisfied themselves by inspection or otherwise, as to all such matters and as to the physical description of any lot. Neither the Vendor nor the Auctioneer make or give, nor has any person in the employ of the Auctioneers or Vendors any authority to make or give a representation or warranty, and in any event, neither the Vendor nor the Auctioneers are responsible for any statement howsoever made or expressed.

Until sold, each Lot shall be at the Vendor's risk. On the fall of the hammer, such risk shall devolve upon the Purchaser. The Purchaser of each Lot shall immediately give the Auctioneer his or her full name and address and, if required, pay the purchase money of such Lot otherwise at the conclusion of the day's sale. The Auctioneers on behalf of themselves and the Vendor shall have a lien on each Lot for the purchase money thereof until actual payment. Notwithstanding such lien and the right of possession aforesaid, the Auctioneers will not undertake any risk as regards any Lot, not liability whatever, as to preservation or delivery thereof.

Upon failure of complying with the above condition, the Auctioneers shall be at liberty to re-sell the Lot or Lots, whether by Public Auction or Private Sale on the premises or elsewhere and the deficiency, if any, together with all charges attending the same, shall be made good by the defaulter at this sale who shall have no claim to any surplus that may arise from each second sale.

Returns: It is the responsibility of the purchaser to ascertain the authenticity and condition of any lot prior to sale. Lots may only be returned by consent of the Auctioneers, and this consent will only be considered if the purchaser states reasons for default in writing within 10 days of the sale in the case of UK purchasers and 14 days in the case of overseas purchasers.

This right of return does not apply however to collections of ephemera, nor to items which are not named in the catalogue, stains, foxing, marginal wormholes nor other defects not affecting the completeness of the text NOR in respect of defects specifically mentioned in the catalogue entry at time of sale, nor in respect of lots sold for less than the £100 hammer price.


Notes for Internet Live Bidding

Conditions of Sale
By registering with www.the-saleroom.com and using the system to bid during the auction, you are agreeing to be bound by the auctioneers standard terms and conditions of sale as displayed on his website and in his printed catalogue.
Commission/Proxy Bids
Please check with the auctioneers to see if the-saleroom.com commission (proxy) bidding is enabled for this auction.
If the-saleroom.com is not enabled for commission bids, please contact the auctioneers office and leave bids there. The auctioneers will always attempt to execute your bids at the lowest possible price subject to their standard terms and conditions.
Proof of Identity
After you register with www.the-saleroom.com the auctioneers may contact you to establish proof of identity and address. The auctioneer will require credit/debit card details to be submitted as part of the registration process. In completing the bidder registration and providing your credit/debit card details and unless alternative arrangements are agreed with the auctioneer you

(i) authorise the auctioneer, if they so wish, to charge the credit/debit card given in part or full payment, including all fees, for items successfully purchased in the sale via the-saleroom.com, and

(ii) confirm that you are authorised to provide these credit/debit card details to the auctioneer through this site and agree that the auctioneer is entitled to ship the goods to the card holder name and cardholder address provided in fulfilment of the sale.

Amounts Payable by the Buyer
Any successful bid will be subject to a 3% service charge. The buyer will pay the hammer price plus any Value Added Tax (VAT) or General Sales Tax (GST) on hammer plus the auctioneer's standard buyer's premium plus the service charge plus UK VAT at 20% on the combined buyers premium and service charge.
VAT on hammer price is normally nil, but may be charged at 5% or 20% dependent upon the prior history of the item, its import status or vendor status. Non-EU buyers may be able to reclaim VAT on hammer upon evidence of export from the EU.
A summary of any VAT on hammer price (VAT/GST) and total buyers premium (including the service charge and VAT) payable can be found by clicking on the relevant lot number or lot image in the catalogue.

United Kingdom VAT Regulations
VAT at 20% is always payable on buyer's premium and service charges whether or not items are being exported from the UK and whether or not items are being sold under temporary import regulations. There are to be no exceptions under a recent European Union (EU) Court of Justice ruling.
If the buyer is of the opinion that his items qualify for deduction of VAT then he should contact HM Revenue and Customs with the appropriate export/import documentation.

Internet Connections
the-saleroom.com technology allows the user to bid online at live auction events whatever kind of internet connection they use. With dial-up, users will in most situations be still able to bid online. With a broadband connection, users will in most situations be able to hear the auction so long as they have speakers attached to their pc.


IMPORTANT NOTICES

Entry
By catalogue only – which will be available on view day and day of sale.

Credit Cards
Payments made by credit cards, Visa and Mastercard only, and debit cards issued by overseas banks, are subject to a 2.5% surcharge plus VAT. Payments made by personal debit cards, issued by a UK bank, will not attract a surcharge.

Buyers Premium
A Buyers Premium is payable at 17% (exclusive of VAT) of the hammer price.

Condition Reports
It is our intention to carry out all condition reports prior to setting up day so notification as soon as possible is necessary.

Commission Bids
The Auctioneers are always pleased to advise clients and to execute bids on their behalf without extra charge.
All commission bids must be confirmed in writing or by facsimile transmission, and any commissions will be purchased at a price as low as other bidding allows.

COMMISSION BIDS WILL ONLY BE ACCEPTED ON RECEIPT OF CREDIT CARD DETAILS.

All commission bids must be received no later than 6 pm on the day prior to the auction. No commission bids will be accepted on the morning of the sale.

Successful purchasers must notify the Auctioneers within 48 hours with packing/collection instructions. After which time all items will be packed automatically and these charges will be passed on to the purchaser whether collected or shipped.

Storage Charges
Commission bidders please note that a storage charge will be levied after 10 days for items where shipping instructions have not been received and will be charged at a rate of £1 per day.

Telephone Bids
Telephone bids will only be accepted on individual lots with a price guide of £100 and above, and telephone bids must be registered with our office by 6pm on the day prior to the auction.

Estimates
The estimated prices printed in the catalogue are approximate prices expected to be realised excluding Buyers Premium. They are not definite. They are prepared well in advance of the sale and are subject to revision.

Postage and Packing

Although Mullock's are not expert packers, we will pack and despatch lots for those bidders who cannot collect their items in person.

Charges will be made to cover all costs including labour, packing materials, storage, sourcing, documentation preparation, post office and courier collection & delivery, insurance and fuel surcharges.

Larger, bulkier and more expensive items will attract further charges to cover the extra carriage & insurance costs.

VAT will be applied at the standard rate where applicable.
Quotes for this service will not generally be provided for consignments that cost under £15 to pack and send.

NB: All glass will be removed from framed and glazed items prior to posting.



Buyer`s Premium 17% + VAT

Lots purchased online with the-saleroom.com will attract an additional charge for this service in the sum of 3% of the hammer price plus VAT at the rate imposed

Shipping:
Mullock`s are not expert packers, however we will oblige all bidders who wish us to pack ther items, charges will be made to cover all costs including insurance, storage, sourcing, packing materials, completion of documentation, labour and delivery to Post Office

NB: All glass will be removed from framed and glazed items prior to posting.

Following new rules from the Post Office we have reluctantly been forced to introduce a minimum postage and packing charge of £10 per consignment. Larger, bulkier and expensive items will attract further charges to cover the extra Post Office and insurance charges

Postage and packing quotes will not be given for parcels that cost under £15 to pack and send and will be sent insured and by the most economical way.